Our Vision
The Australian Prostate Cancer BioResource (APCB) provides a unique quality assured facility for the collection, storage and access to biospecimens and annotated clinical data to support research into the treatment and improved clinical management of men with prostate cancer. The APCB manages four federated nodes located in Brisbane, Sydney, Melbourne and Adelaide.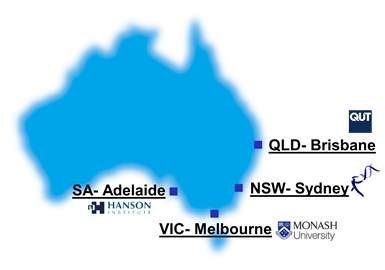 Our Goals
To provide an internationally "best practice" Biobank underpinning translational research into prostate cancer.
To provide long term clinical follow up data related to prostate cancer treatment that will allow for meaningful outcome based research (currently <7 years) .
To provide standardised high quality derivatives of Biobank biological samples – DNA, RNA, TMAs.
To facilitate collections in developing areas of research – circulating tumour cells (CTCs), primary cells, tissue explants and xenograft models.
To collaborate with and participate in consortia and major programs of research activity including clinical trials.
To establish a community of practice focussed on the biobanking of prostate cancer biological samples.
What we do
The APCB provides a significant number of unique services which include:
Fresh tissue (cancer/"benign" cores) from radical prostatectomies;
Paraffin embedded tissue sections,
Buffy coat cells, serum, plasma
Tissue microarrays
To date, the APCB has collected over 139,000 samples from more than 5,500 men and has distributed over 7,420 samples to more than 47 researchers nationally.
History of APCB
This APCB was an initiative of the Australian Prostate Cancer Collaboration; a group of clinicians, scientists and other health professionals dedicated to improving prostate cancer management. The bioresource was established by this group to ensure high quality annotated prostate biological samples were available to all Australian prostate cancer researchers. The APCB is indebted to our foundation sponsors including the PCFA, the Commonwealth Bank of Australia and Andrology Australia for having the foresight to sponsor such an important resource.
Our Sponsors
The APCB is jointly funded by the National Health and Medical Research Council (NHMRC) and Prostate Cancer Foundation of Australia (PCFA).